About Cassandra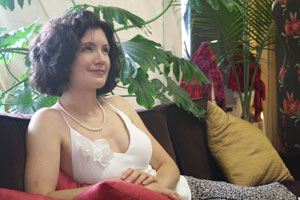 Cassandra studied art history, printmaking, and fashion design at Smith College, Alfred University, and Massachusetts College of Art before opening her studio in 1998. For the past decade she has specialized in client centered design creating unique custom garments in her studio in Northampton, Massachusetts. Trained both technically and artistically, she has collaborated over the years with numerous artists including Peter Kitchell, Chris Nelson; Peter Dellert, Jane Herzenberg, Micala Sidore and Pat Hayes.
Fashion Shows
Skera Gallery in Northampton, MA has featured Cassandra's works in various shows and events including the Roadkill Show, Basics Line, Recent Custom Work, and Wedding Gowns. Past clients often return to model their one of a kind attire.
Instruction
In addition to her designs, Cassandra created and taught classes on pattern design at the Northampton Center for the Arts, and conducted a weekend workshop at Snow Farm: The New England Craft Program in Williamsburg, MA.
Collaborative Art Works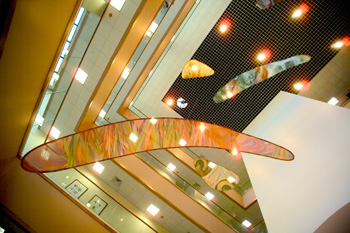 A
large scale mobile
: one of many art collaborations
photo courtesy of Peter Kitchell
Among her collaboration projects, Cassandra worked with artist
Peter Kitchell
. in the creation of a
large scale mobile
at St. Joseph's Hospital in Tampa, FL and a screen installation at the UMass Medical Center in Worcester, MA.
Cassandra's Clients
What starts off as a single project often turns into a lifetime of custom creations. It is not unusual to see multiple generations of women wearing Cassandra's designs.
For one family, it started with designing a dress for grandmother Beulah to wear to her niece's wedding. Cassandra later designed formal gowns for Beulah's daughter Judy, and then eventually three gowns (wedding gown, mother of the bride gown, and grandmother of the bride gown) for granddaughter Nina's wedding.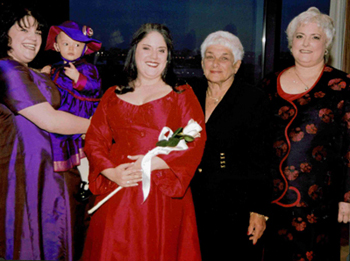 4 generations wearing Cassandra's works
photo courtesy of the family
For another family, it started with Jill's search for an outfit to go with a new pair of lace pumps. Cassandra created a "mix and match" set of tops and skirts for multiple possibilities. Over the years, Jill has returned to commission wedding gowns and mother of the bride gowns for both her daughters' weddings.
Arts Community
In 2008 and 2009, Cassandra served as a panel judge for "Project Runway" at the Belchertown High School in Belchertown , MA.  Students were challenged to design and create either a single garment or an ensemble using either a bed sheet, paper, or recycled materials.  The winning contestant was awarded an internship with Cassandra.