In the News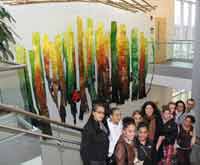 Finished mobile at HCC
Helen Gurley Brown Magic Grant
In May of 2012, Cassandra received the Helen Gurley Brown Magic Grant and began working with students from the Care Center in Holyoke, MA, to create a large scale art installation in Holyoke Community College's Kittredge Center. The mobile, comprised of painted aluminum strips suspended from a curving bamboo frame, is entitled Alchemy, and speaks to the power of education to transform women's lives. The finished piece was unveiled in December and students were honored at a formal reception. Additional images and information about the project can be found here, here, and here.
Gown and Chuppah featured on Style Me Pretty Blog
Jacki and Brandon were married in a rustic, elegant ceremony in the Berkshires. Cassandra created a silk chiffon and antique lace chuppah for the couple collaged from elements of both mothers' original wedding ensembles. The chuppah and the gown she designed for Jacki's mother, Ros, were featured on the Style Me Pretty Blog and in the book of the same name.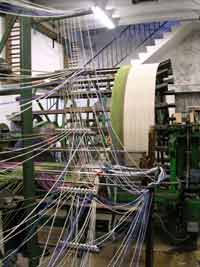 Studio Donegal Shop and Mule
Hoxie Grant
Studio Donegal is one of the last remaining commercial hand-weaving mills in Ireland. With the help of a Hoxie Grant, Cassandra traveled to Kilcar, a tiny fishing village in the north-west of Ireland, to work with the company and to visit Donegal Yarns. During her month-long residency, she designed a signature piece for their women's wear collection.
Wedding Dress Redesign in Boston Bride Magazine
While planning her wedding, client Jane Goldstone brought her grandmother's silk wedding gown to Cassandra for a redesign. The dress was restored and then streamlined for a sleeker and more modern look, but kept many of the beautiful elements of the original dress, including the tiny covered buttons and the long streamers. Jane's wedding was featured in Boston Bride's Magazine. Photograph courtesy of Lisa Berry Photography.
Skera Gallery 's Runways Shows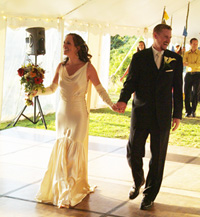 Redesigned dress by Cassandra
featured in Boston Bride's Magazine
Twelve of Cassandra's designs were showcased at the Wedding Gown Runway Show at Skera Gallery in Northampton. Each wedding gown reflected a unique combination of both creative and traditional elements, and was modeled by the brides themselves. View the photo gallery and description of the runway gowns.
Cassandra's works have been featured in four Skera Gallery Runway shows over the years:
Custom Bridal Attire

- Runway show of wedding attire featuring vintage elements and color (April 2008)

Recent Custom Work

- Runway show of custom clothing featuring formal attire, suiting, and costumes (October 2007)

Basics

- Creation of a line of simple formal separates for the art-to-wear gallery (October 2005)

Roadkill

- Debut of a line of faux fur and irreverent wearables (October 2003)
National Book Award Winner Jeanne Birdsall
When author Jeanne Birdsall was nominated for the National Book Award, she wanted something one of a kind to wear to the ceremony. Cassandra designed an elegant slate blue silk gown with vintage kimono fabric for the event. See Jeanne Birdsall in her gown with the award.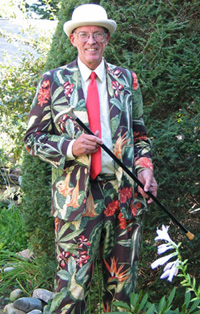 One of a kind suit for Steinway piano unveiling in New York City
Marquetry Artist Silas Kopf at Steinway
Local artist Silas Kopf recently designed a one of a kind piano for Steinway. He approached Cassandra for a unique suit to wear to the piano's unveiling in New York City. Cassandra designed this print suit for Kopf, who also collects Hawaiian shirts.
Fiber Arts Center Show
The Fiber Arts Center in Amherst, MA featured sculptural work as well as garments from a number of New England artists.  For the exhibition, Cassandra collaborated with Christine White of Magpie Design Felting Studio to create two unique garments.  The first was a pair of black merino wool seamless pants which closed in the back with bronze silk lacing.  The second was a charcoal grey coat with felted insets which suggested x-ray images of the skeletal structure.  Both pieces were later featured at the Recent Custom Work Runway Show at Skera Gallery.
Gala Celebration of Northampton's 350th Anniversary
Cassandra created costumes in collaboration with Camille Radina for "Fastforward 350: A Journey into the Future", the culminating Gala Celebration of Northampton's 350th anniversary in January 2005.  The dance performance was one of highlights of the fundraiser benefiting the United Way of Hampshire County .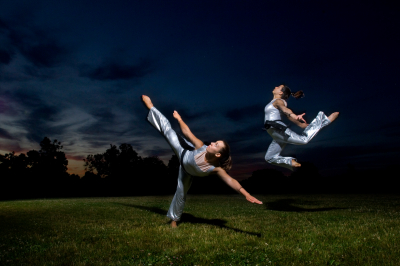 Costumes for "Fastforward 350: A Journey into the Future"